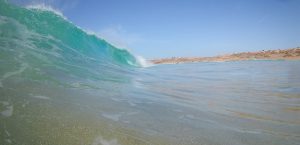 How many time we heard this question at Redshark!
First of all we would like to advise you not to overestimate your surfing skills, you might have been surfing in the Mediterranean Sea or in Caribbean/Indonesian beaches, here the matter gets more complicated:  Atlantic Ocean is though
When I started surfing, a good friend told me the very first rule of surfing: when you get to the beach (to the spot) just stand and look! "Look left, look right " he said!! Just look how people are surfing in the water, look from where they get in and out, try to recognize how the currents move people in the water, are there people of your same level in the water? Is my level good enough for this wave?? … "look right, look left"  …
Fuerteventura has many different spots all over the coast line but it is not so easy to find out which one would be the right one!
You always have to consider many facts: first of all swell strength and direction:
during autumn/winter season the swells arrive from NORTH, NORTH-WEST and WEST direction, you will mainly find nice little waves in Punta Blanca and Caleta Inside, if the wind pick up waves will be more choppy but still consistent.
Punta Blanca (right wave) is easier to get in, it is a rocky spot but the entrance to the wave is on sand. It is recommended if you still do not master the Duck dive movement. Works only on Medium to High and High to Medium tide. On low tide? No water, no waves!!!
In Caleta inside  (left wave) the entrance to the water is far more complicated, no danger at all, but you will need either reef boots or a lot of patience. It better works on medium to low tide or low to medium. During high tide depending on the swell there can be waves but you might end up parked on the rocks!!  😉
The surf completely changes when a solid swell hits the island… but we will speak about this spots next time! Stay tuned