We were speaking about beginner to intermediate waves (green waves) and which are the best spots when a big swell hits the north coast.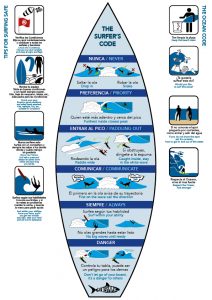 Caleta inside and Punta Blanca can still be good option, but  when you see forecast stating more than 2.5/3 mts you better head east. Starting from Punta Elena in town, the Entubadera (just before the Riu hotels), El Burro and El Moro, after the Hotels.
Punta Elena or Rocky Point is a great spot if you can paddle easily and know how to duckdive, works in high and low tide and can receive a lot of surfers. Normally locals and advanced surfers stay further out waiting for the big set!! you will have a great session, fun and relaxed staying inside the bay taking smaller but long waves. Be careful to paddle away when someone comes riding the wave (when you paddle away you should go towards the white wash, not towards the wall of the wave, even if then you will be washed by the white water you have to let the surfer on the wave have free way)
Entubadera, El burro and El Moro are all sandy beaches but in low tide you better wear reefshoes. The Entubadera can be a great wave, fast and hollow sometimes, el burro can break on the reef and on the beach and El Moro on low tide is a great easy small wave.
Always take your time to check the spots thoroughly, and, when in doubt, ask the locals or go to any SurfShop or Surfschool and ask for advise.
At Redshark Surfschool we organize semiprivate intermediate courses (max. 4 people per instructor) this could be a good idea if you do not feel comfortable with going into the water in a new place. Our instructor, apart from technical instructions, will give you all the notions about different spots, how to get in and out, stream danger and local knowledge.
Have fun, be safe!