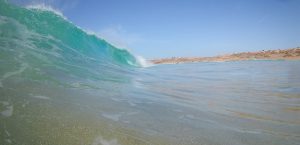 How many time we heard this question at Redshark!
First of all we would like to advise you not to overestimate your surfing skills, you might have been surfing in the Mediterranean Sea or in Caribbean/Indonesian beaches, here the matter gets more complicated:  Atlantic Ocean is though
When I started surfing, a good friend told me the very first rule of surfing: when you get to the beach (to the spot) just stand and look! "Look left, look right " he said!! Just look how people are surfing in the water, look from where they get in and out, try to recognize how the currents move people in the water, are there people of your same level in the water? Is my level good enough for this wave?? … "look right, look left"  …
Fuerteventura has many different spots all over the coast line but it is not so easy to find out which one would be the right one!