You've looked out at the sea and seen surfers riding the waves and think to yourself 'how hard can it be?' While they may make it look simple, inreality, getting to grips with surfing, like any new sport, takes some practice – and probably quite a few laugh out loud moments along the way. To help you go from a newbie surfer to a fully-fledged surfer in no time at all, we've rounded up the most common surfing mistakes beginners make, and how to avoid them. 
1.Failing to warm-up
We all know that familiar feeling of waking up the next morning after a heavy exercise session aching all over. And surfing can be just the same. Although it's easy to forget to warm-up when you see the waves and want to get straight to it, you're still using lots of the same muscles as you would with other sports, including abdominal, biceps and leg muscles. So, skipping a warm-up can leave you very sore over the next few days. A quick jog before you start will help limber you up, raise your heartbeat and get your body prepared for a proper workout.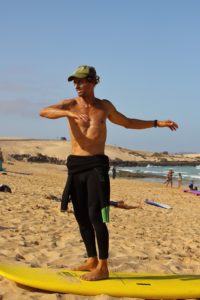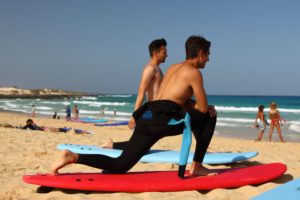 2.Not having the right board
As the popular saying goes, 'A man is only as good as his tools.' The last thing you want as a keen new surfer is to turn up to your first surf lesson with a board that's the wrong size and skill level for you. Even top pro surfers struggle to surf their best on a board that doesn't match their specific requirements. Surfboards come in all different styles and sizes, so head to a reputable surf shop to get expert advice on which board will work best for you as a beginner. This way you'll give yourself the best chance of taking to the waves like a duck to a pond and avoid forking out money on the wrong board.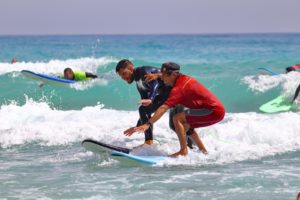 3.Taking to the water too soon
We get it. You didn't take up surfing to be practising moves on the sand. The pull of the waves is real and we hear you. But failing to practise enough on dry land is a really common mistake beginners make. Dry land is where you can perfect your pop up, stance and balance easily, where your instructor can correct your mistakes. Skipping ahead too soon to tackle waves, before perfecting your technique, will likely mean you spend a frustratingly long time learning the basics. Having a bit of patience and faith in the process at this stage will pay off in the long run when you've learned good habits and techniques.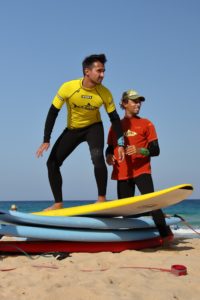 4.Popping up too soon
This is a tricky one for beginners, and something best learned through practice. The pop-up is literally when you go from lying on your board to standing. And, it can be tempting, when you're new to surfing, to rush this part. While you can never pop-up too fast – a fast pop-up is what you're aiming for – getting the timing right of when to pop-up is the hard part. It's been said that it should almost feel too late by the time you pop-up. So, play around with your timing to see what results you get. Again, practising your pop-up on land will help you perfect your technique.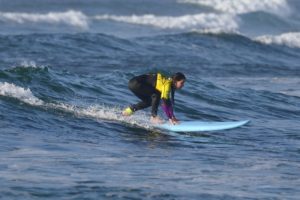 5.Failing to act with etiquette
As with most sports, how you act when you're training is just as important as the training itself. Acting with a lack of surf etiquette is one of the biggest mistakes you can make in surf culture and could lose you respect within the community. Aside from the obvious one: not leaving litter on the beach, make sure you read up on rules around right of way, dropping in and where to paddle, to understand the basics and start out as you mean to go on.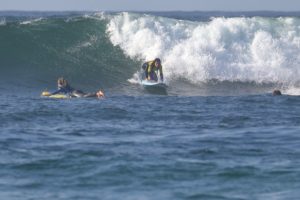 Don't forget to have fun
As pro surfer Phil Edwards said, 'The best surfer out there is the one having the most fun.' So, relax, enjoy yourself and soak up everything the surfing world has to offer. Who knows where the waves will take you!
And if you would like to improve as a pro you better book a surf course with us: https://redsharkfuerteventura.com/es/curso-surf
About the author
Vivida Lifestyle seeks to build the best and most sustainable activewear and accessories for watersports, yoga, and life. Vivida supports a global community of like-minded individuals that inspire and empower one another to live balanced, healthy and fulfilling lifestyles doing what they love.