Summer is kicking in  in Fuerteventura and everybody seems to talk about going SUP surfing: SUP wave, SUP race, SUP flat water, SUP Adventure exclusion, SUP yoga and so on….
But what is SUP Surfing and there does it actually come from?
One of the great things about water sports is that its constantly evolving. Whether it be a new technology, new techniques, or new boards or ways of enjoying the ocean, water sports have a way of re-inventing themselves so that the enjoyment is always as fresh as the ocean.
What is SUP surfing?
SUP Surf means Stand Up Paddle Surf and it combines the technics of Surf and Kayak. Unlike traditional wave surfing, Stand Up Paddle Surf is a full body workout and easy to learn for all levels and ages. With just one SUP Lesson or SUP Camp you are ready to get into the water and have fun and the SUP motion quickly becomes comfortable and natural with some practice.
Interesting! But whats the History of SUP surfing? Where does it come from?
It's quite difficult to know exactly when stand-up paddling began and where it actually comes from. Most people agree that already thousands of years ago, fishermen from diverse cultures, from Africa to South America, would stand in their canoes and move with long sticks out into the ocean.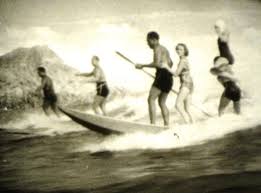 Its been said that when Captain James Cook visited the Hawaiian islands in 1778, he was the first European to see local people standing on their canoes so called Koa Boards which measure up to five metres in length and using a paddle to move around the ocean.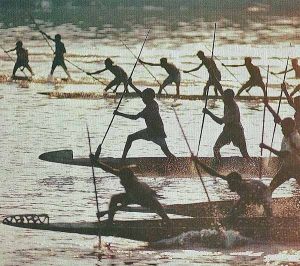 Also, there are many people who claim that the world's first SUP surfers weren't, in fact, Polynesian but were actually ancient Peruvian fishermen who lived over 2,000 years ago. They were using boats called "Caballito de Totora" made out of  tightly-bound reeds. They used this paddle boards to get out  into the Pacific ocean to go fishing and when returning to shore, they would use the waves to help push them back towards land, standing up on their road to generate more paddle power.
Therefore,  since the Polynesians don't have written records which date back 2,000 years, the Peruvians are being said to be the world's first SUP surfers or stand up paddlers.
And when/where was the birth of modern stand up paddling?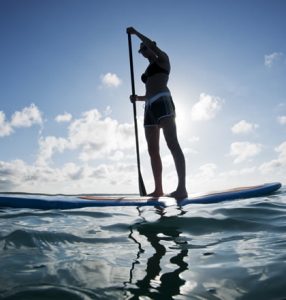 Again, its hard to tell as the influence of long boarding is very wide. But it's  believed that the modern paddle recreational sport was invented on Maui where Stand up paddlers has been seen paddling the shoreline waves.
Many claim the birth of modern stand up paddling as when two professional Hawaii longboard surfers—Dave Kalama and Laird Hamilton—used paddles to speed up their longboards during an Oxbow photo shoot on Maui in the early 2000's.
In 2004, the movement of what we understand of SUP surfing slowly began to spread out over the globe.
One year later, in 2005, a California surfer by the name of Rick Thomas introduced the sport to the Californian surfing Community and from that moment on, SUP surfing has become the fastest-growing water sport in the world.
In just a few years, thousands of SUP Surf Schools were popping up offering a wide range of SUP activities such as SUP wave, SUP flat water, SUP race, SUP yoga, SUP adventure trips ans so on.
Many different Boards were launched to the market such as SUP race boards, Sup Frestyle boards, Surf SUP boards, even infalible SUP boards exist what makes its transport much easier.
Learn SUP Surfing in Fuerteventura
Come to Redshark Shop in Fuerteventura to have a look and rent our wide range of SUP boards. We offer SUP Camps and SUP Courses for beginner , intermediate and professional SUP surfer and a great Flat Water SUP Adventure Excusion day to Lobos Islands perfect for Families and friends.
Join the SUP Revolution & See you in the ocean. Paddle out!